Ocean Tipping Points team members Dr. Rebecca Martone and Dr. Jameal Samhouri co-convened a symposium at the 2014 PICES (North Pacific Marine Science Organization) annual meeting in Yeosu, South Korea, on October 21st along with colleagues Ian Perry (Canada), Motomitsu Takahashi (Japan), Maciej Tomczak (Baltic Sea Center / ICES), and Chang Ik Zhang (Korea).
The session, entitled Tipping points: defining reference points for ecological indicators of multiple stressors in coastal and marine ecosystems, provided an overview of how tipping points relate to marine species and ecosystems, and included presentations from seventeen speakers representing seven countries and a variety of geographies and scales. The diversity of perspectives resulted in a productive conversation about the various approaches to considering tipping points in ecosystem management.
Dr. Martone described the outputs from our synthesis of a global database of marine ecosystem shifts, the meta-analysis of nonlinear relationships in pelagic systems, our law review that demonstrated that regulations incorporating thresholds yield better environmental outcomes, and the management review of 50 case studies of current management contexts showing that explicit use of tipping points in management yields improved environmental outcomes. Dr. Jameal Samhouri described how examining systems that have crossed tipping points might help guide the recovery of ecosystems. Ocean Tipping Points team member Dr. Phillip Levin, an invited speaker, addressed the important topic of how to respond to regime-shifts in social-ecological systems, drawing from Ocean Tipping Points team case study research in Haida Gwaii, British Columbia.
In addition to showcasing recent advancements in the science and management of ecological thresholds, the symposium also brought to light many avenues for future work and key elements to consider when developing tipping points science for management, including:
Tipping points are relevant to many issues in marine science and management, including climatic shifts, changes in top predator abundances, and ecosystem responses to multiple pressures.
Early warning indicators of tipping points may be difficult to identify, but retrospective analysis and modeling can help identify potential trajectories of recovery and guide management actions. Knowledge of tipping points can help guide decisions about management objectives and targets.
While it is important to define 'desired' states within the tipping points framework, it is important to manage expectations about what is possible to achieve from a biophysical standpoint
See the Symposium abstract and links to selected presentations here.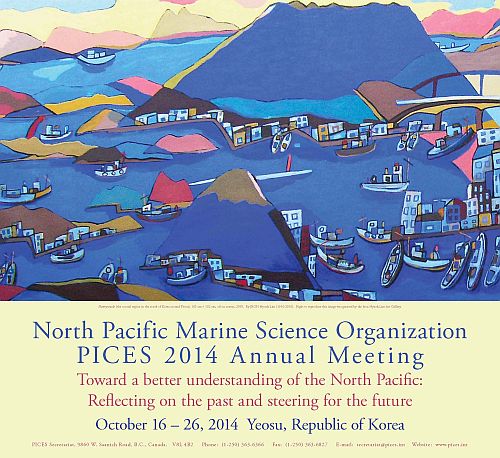 List of Presentations:
Marine ecosystem regime shifts: Challenges and opportunities for Ecosystem-Based Management (Invited) Phil Levin
Tipping points and decision-making: Why they matter, why they are hard, and practical things to do Jake Rice
Embedding the science of tipping points into ocean management Rebecca Martone, Carrie Kappel, Courtney Scarborough, Mary Hunsicker, Ben Halpern, Kimberly Selkoe, Phil Levin, Jameal F. Samhouri, Crow White, Ashley Erickson, Ryan Kelly, Lindley Mease, Margaret Caldwell, Larry Crowder and Rod Fujita
Ecological network indicators of ecosystem status and change in the Baltic Sea Maciej T. Tomczak, Johanna J. Heymans, Johanna Yletyinen, Susa Niiranen, Saskia A. Otto and Thorsten Blenckner
Regional variations in ecosystem responses to anthropogenic activities and natural stressors in the Seto Inland Sea Motomitsu Takahashi, Sachihiko Itoh, Naoki Yoshie and Kazuhiko Mochida
Potential early warning indicators of marine ecosystem changes in coastal British Columbia, Canada R. Ian Perry
Seabird indicators and "tipping points" in North Pacific marine ecosystems William J. Sydeman, Sarah Ann Thompson, Julie A. Thayer, Marisol Garcia-Reyes, Heather Renner, John F. Piatt, Stephanie Zador and Yutaka Watanuki
The effects of acute gamma irradiation on the survival and the physiological and biochemical indexes of Chinese black sleeper, Bostrichthys sinensis Wen Yu, Tao Yu, Yusheng Zhang and Feng Lin
The combined effects of elevated CO2 and temperature on the physiological condition of the olive flounder larvae Paralichthys olivaceus Kyung-Su Kim, JeongHee Shim and Suam Kim
Eutrophication and oligotrophication processes in the Seto Inland Sea and their relationships to the Satoumi concept (Invited) Tetsuo Yanagi
Diversity of perceptions and utility of marine ecosystem services Kazumi Wakita, Zhonghua Shen, Taro Oishi, Nobuyuki Yagi, Hisashi Kurokura and Ken Furuya
Assessment of the magnitude and interrelationship of seasonal phytoplankton bloom occurrence at the Japanese scallop (Mizuhopecten yessoensis) farming area of Okhotsk Sea, Hokkaido, Japan Christopher Mulanda Aura, Sei-Ichi Saitoh, Yang Liu and Toru Hirawake
Ordered re-assembly of marine ecosystems Jameal F. Samhouri, Adrian C. Stier and Phil Levin
Potential reference points for mean trophic level of macrofauna in the Sea of Okhotsk Konstantin M. Gorbatenko, Vladimir V. Kulik and Artem E. Lazshentsev
The bioconcentration of artificial radionuclides by marine animals after the Fukushima nuclear accident in the Northwest Pacific Wu Men, Jianhua He, Wen Yu, Fenfen Wang, Wuhui Lin and Yusheng Zhang
Seasonal and spatial variations in nematode assemblages affected by thermal influence of a nuclear power plant in Korea (East Sea, Pacific Ocean) Hyeong-gi Kim, Hyun soo Rho and Chul-woong Oh
Characterization of absorbed dose from natural and anthropogenic radionuclides for the purpose of establishing reference points within the marine environment Delvan R. Neville and Kathryn A. Higley
---
Learn more about the Ocean Tipping Points project Research Activities and Case Studies.